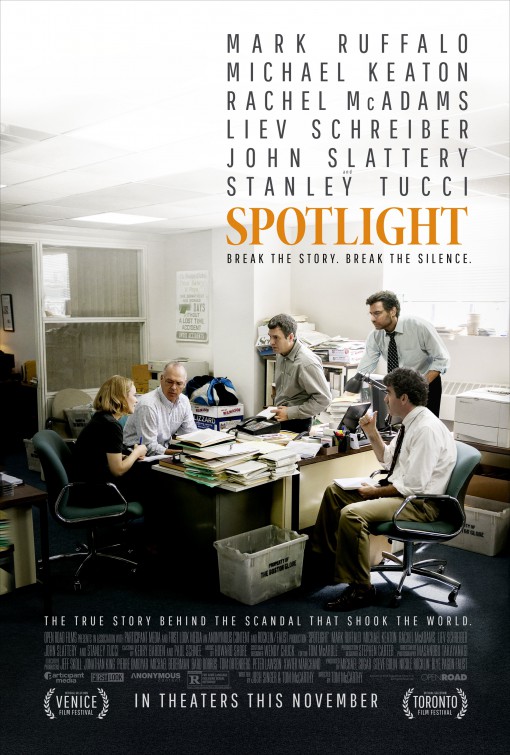 I just got back from a two week research trip to Iceland and the Faroe Islands, and I will have some posts to make about that, but I still need to gather my thoughts.
When I got back on Friday, I wasn't that tired, but I wasn't up to tackling my editing yet. I hadn't really consumed much media for 2 weeks. We were living out of a tiny camper van, and it was cold enough in Iceland that I wanted to be out touring all day rather than sitting around a camp site reading and trying to stay warm.
When I got back, I decided to finally watch Spotlight, which won the best picture Oscar this past year. I often avoid prestige pictures because they can feel weighed down by their self-importance, but I was very curious about this one and it did not disappoint. Spotlight is the story of the Spotlight investigative reporting team at The Boston Globe, which investigated and then revealed the Catholic Church's conspiracy of protecting and transferring abusive priests around parishes rather than keeping them from hurting any more children.
It's a very businesslike movie in many ways. It revolves around our characters at work, and has few personal moments, or moments of overt drama. At one point, one of the key reporters played by Mark Ruffalo gets to make a passionate speech, but it does not have the effect he wants it to, at least not immediately. By being so relentlessly focused on the mechanics and legwork of bringing this story to the public, rather than hitting the usual narrative beats, the film feels fresh and interesting
One of the things that really elevated the film, I thought, was showing every character's complicity in covering up the story, while making none of the on-screen players a real villain or a pure hero. Even a lawyer who seems to be profiting from helping the church settle and cover up these cases did try to get the press to investigate it, and another lawyer who helped cover it up eventually becomes a key player confirming the story. The film also illustrates how easy it is to go along to get along, even when that covers up something of this magnitude.
Another thing I really liked was how the film handled the testimony by the victims. It worked very hard to make the characters who do tell their stories into individuals, frustrated, angry and hurt, and show how the abuse affected them without being lurid about it. Sexual violence does not need to be shown on screen for viewers to feel its impact, and perhaps it's better for films that want to engage with the issue honestly not to show it.
The Globe released a book that rounds up some of the 600 articles that they did on this subject, and I plan to read it after this. It's hard not to want to delve deeper into some of the individual stories they only touch on.